Fingering Type
Fingering Type
Fingering Type Select (1 to 3 Octaves Note Range, Shape (3n/s)) (Popup Menu)
There are 14 Fingerings plus No Fingerings to select from in the first popup list below for a 7 note Diatonic Scale. There is a trap filter to
remove 2 Octave (3), 2 Octave (2) and 1Octave (3), 1 Octave (2) fingerings from the list below. Fingerings that the start note fret number is
higher than next string from Position 1, or Position 2 can be out of range.
There is also trap filters to remove Positions 0 for selected fingerings 2 Octave (2) & 1 Octave (2). To remove Positions 0 & 1 for Selected Fingerings
(2 Octave (3)) & (1 Octave (3)). For Extended 2nd Octave Fingerings 2 Octave +3) or higher.
The position numbers on the high end are grayed out and remove from the position popup list to prevent out of range for the second fingering.
Examples for all the fingerings in the list are shown in the order in the diagrams below for Notes. Intervals and Finger Placement
(Finger /Fret or Modified) can be shown for any fingering.
If Fingers is selected the (No Fingering) is Filtered out of the list below.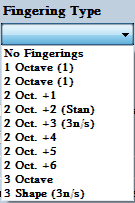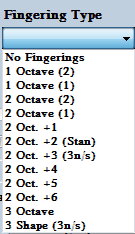 No Fingerings
1 Octave (1) - Position (0)
1 Octave (2) - Position (1)
1 Octave (3) - Position (2)
2 Octave (1) - Position (0)
2 Octave (2) - Position (1)
2 Octave (3) - Position (2)
2 Octave +1
2 Octave +2 (Standard)
2 Octave +3 (3 n/s)
2 Octave +4
2 Octave +5
2 Octave +6
3 Octave
3 Shape (3n/s)
Modify Custom Fingerings
1) Note / String modifications to existing Fingering (2 Oct. +2) (Stan) displayed Note / String Text Boxes. (Outlined in red)
2) Example increase Note / String on (String 3 from 2 to 3) and (String 2 from 3 to 4) Update with the View Check Box. (Red Arrows)
Create Custom Fingerings
1) Select No Fingerings Fret Number | Note / String
2) Select Fret Number | Note / String for each string then click the View CheckBox to Display Custom Fingering (2nd Octave Disabled)
(String 6, Fret 0, 4 Note / String), (String 5, Fret 2, 4 Note / String), (String 4, Fret 3, 4 Note / String)
(String 3, Fret 4, 4 Note / String), (String 2, Fret 5, 4 Note / String), (String 1, Fret 7, 4 Note / String)