Customize Fret board
Customize Fret Board Window
1) Selects Guitar Fret Board (8 Fret Board Colors)
1A) Rosewood
1B) Ebony
1C) Dark Blue
1D) Mono Chrome
1E) Yellow
1F) Bisque
1G) Turquoise
1H) Green
2) Custom Colors (Setting to Select Custom Color)
3) Color Select Note Colors,Text Color & Border in Custom Colors
Custom All Colors - All Note Colors
Specific Octave Separation Color (1 - 6)
4) Reset Custom Colors Button > Resets all colors to default colors
5) Saving, Editing, Delete, Fret Board Presets
6) Saving a Preference Custom Preset for the next time you open Guitar Analyzer
Customize Fret Board Window
1A) Select Guitar Fret Board Button > Rose Wood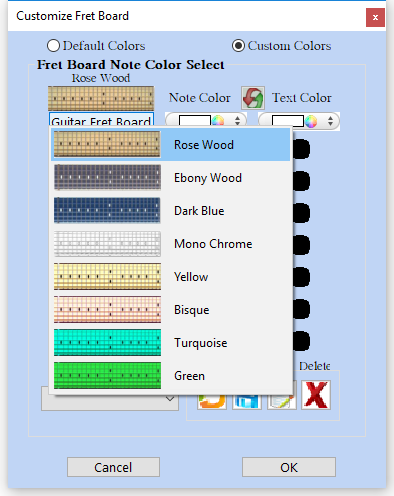 1B) Select Guitar Fret Board Button > Ebony Wood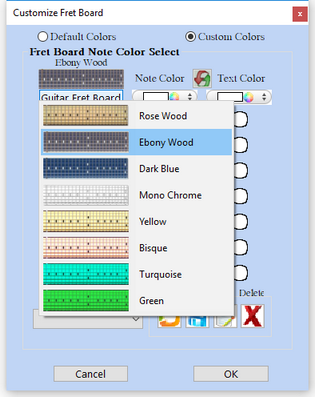 1C) Select Guitar Fret Board Button > Dark Blue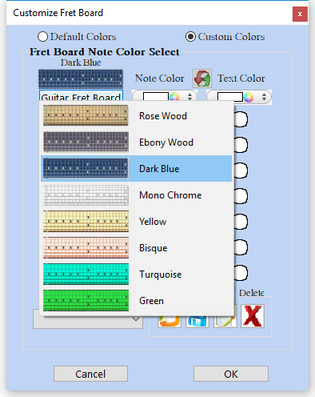 1D) Select Guitar Fret Board Button > Mono Chrome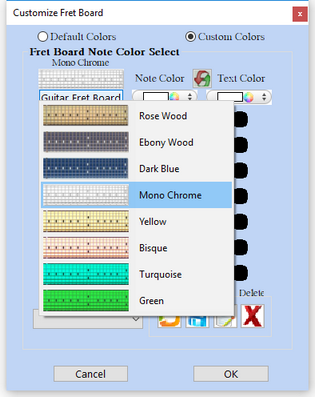 1E) Select Guitar Fret Board Button > Yellow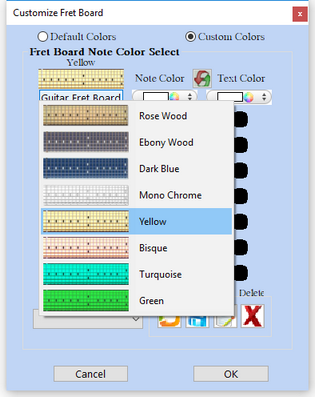 1F) Select Guitar Fret Board Button > Bisque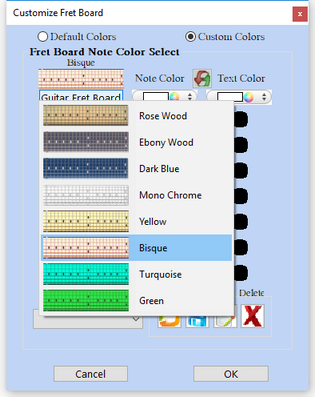 1G) Select Guitar Fret Board Button > Turquoise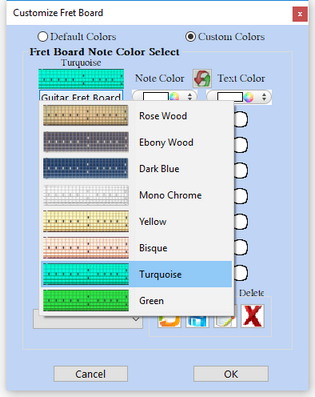 1H) Select Guitar Fret Board Button > Green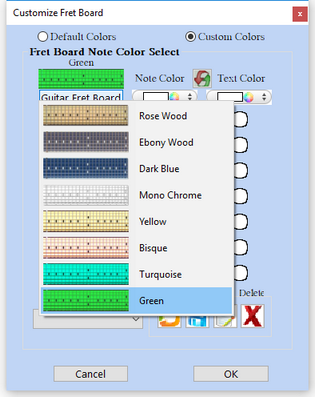 2) 2) Custom Colors (Setting to Select Custom Color)
3) Color Select Note Colors,Text Color & Border in Custom Colors
If a default color is changed to a custom color in either note & text color the label automatically update from Default to Custom.

Select Purple Note Color Select Gold Text Color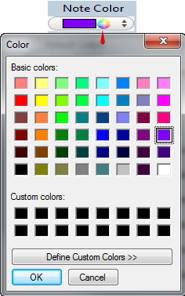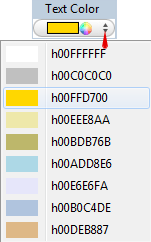 Custom All Colors > Custom Color Radio Button > Octave Color 1 Radio Button > Refresh or OK Button updates Fret Board (If Menu > Octave Separation > Colored Checked)


4) Default Color Reset
Reset custom color back to default colors and press Refresh to update or press OK to update and close window

Default octave color separation changes note color & Borders to lighter colors for Darker Fret BoardsEbony Wood Fret Board (also Dark Blue) (If Menu > Octave Separation > Colored Checked)

5) Saving, Editing, Delete, Fret Board Presets.
Name Custom Preset Press Save and Preset Successfully Saved Dialog Custom Preset is added
Editing a custom fret board preset. Rename, change note colors or fret board
Edit To Change Preset and Rename Press Edit and Successfully Edited Dialog Edited Preset Changed
Delete selected custom preset and remove preset from Custom Preset Popup Menu
Delete Preset and Confirm Affirm Deletion Deleted Preset Removed
6) Set a Custom Fret Board Preference Preset for the every time you launch Guitar Analyzer.
* If you created a preferred custom preset (Ebony Yellow Text) - Press the Preference Button to set it.
Set Custom Preference Button A Dialog displays when set: Ebony Yellow Text